ALZHEIMER'S STATS AND FINDINGS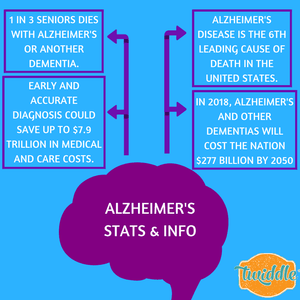 WHAT IS ALZHEIMER'S?
Alzheimer's disease is a degenerative brain disease in which the death of brain cells causes memory loss and cognitive decline. Most people have late-onset Alzheimer's, where they start displaying symptoms in their early to mid-sixties. Approximately 4% of people with the disease have early-onset Alzheimer's, in which symptoms begin to occur between their thirties and sixties. Alzheimer's disease is the most common form of dementia.
PREVALENCE:
• An estimated 5.7 million Americans of all ages are living with Alzheimer's dementia in 2018.
• There are approximately 44 million people living with Alzheimer's disease worldwide.
• There is about a 50% chance that anyone who lives beyond 80 years old will develop Alzheimer's.
• Alzheimer's is the sixth-leading cause of death in the U.S. and the fifth-leading cause of death for those ages 65 and older.
• Every 65 seconds, someone in the U.S. develops Alzheimer's dementia.
PROJECTIONS:
• The number of people with Alzheimer's may nearly triple from 5.7 to 13.8 million by 2050.
• Before 2050, the number of total dementia cases worldwide is expected to hit 130 million.
• By 2025, the number of people ages 65 and older with Alzheimer's is estimated to reach 7.1 million.
• Total health care payments for people with Alzheimer's and other dementias are projected to increase to more than $1.1 trillion in 2050.
TREATMENT AND CAREGIVING:
• 16.1 million Americans provide unpaid care for people with Alzheimer's and other dementias.
• Unpaid caregivers provided an estimated 18.4 billion hours of care in 2017.
• In 2017, the lifetime cost of care for a person living with dementia was $341,840.
• In 2018, Alzheimer's as well as other dementias will cost the nation $277 billion.
• 48% of all caregivers who provide help to older adults do so for someone with Alzheimer's or another dementia.
Follow Twiddle on Facebook (Twiddle Therapeutic) and Instagram (@4Twiddles) to learn about more about Twiddles and to stay informed from our blog.
Sources:
"Facts and Figures." Alzheimer's Association, Alzheimer's Association, 2018, www.alz.org/alzheimers-dementia/facts-figures.
"2018 Alzheimer's Disease Facts & Figures Report |." How Alzheimer's Disease Affects the 5 Senses, 2018, https://alzheimerscareresourcecenter.com/2018-alzheimers-disease-facts-figures-report/   
Leave a comment
Comments will be approved before showing up.